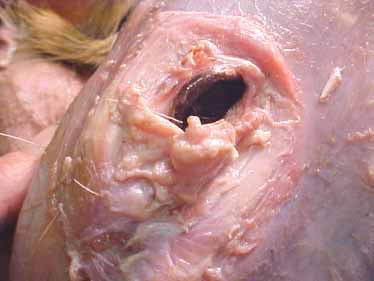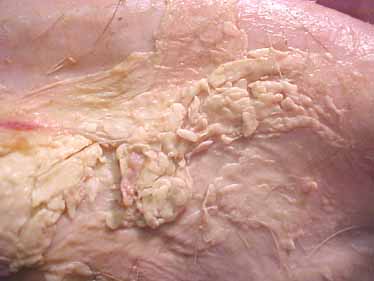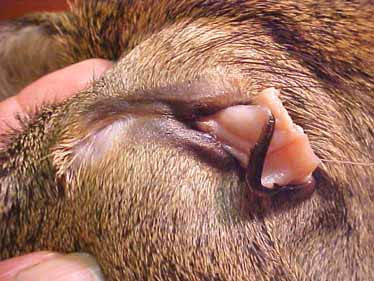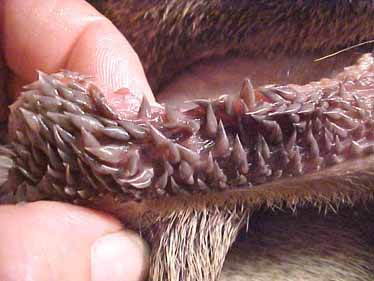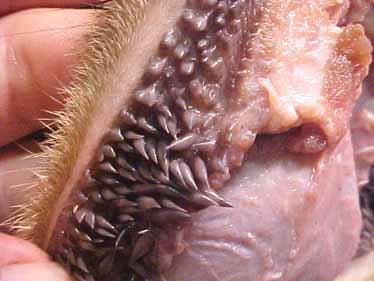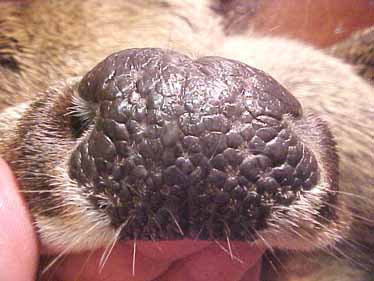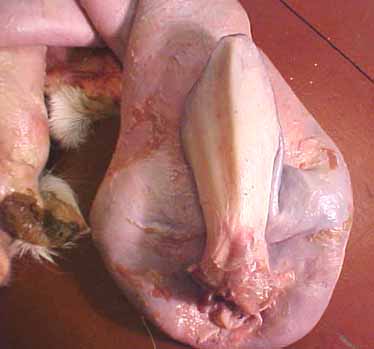 This view takes in the upper lip skin, papillae and cartilage of nose that is still in place.

View of papillae taking in the mouth corner.

Showing open lacrimal and crease, epidermis of eye lids and inverted nictating membrane.

View showing fat deposit that was deliberately left on the back section of the cape.

View of inverted cape with a freshly opened ear showing.

Deer nose pad.  Cartilage  and soft tissue still in.

Food for thought, STOP-ROT and when the freezer goes out.

            The photos below were taken June 14, 2005.

                                      Glen Conley







The cape in the photos is from a whitetail doe that I took in our early archery season the week before our gun season started in November 2001.  This particular doe was slipping hair just five hours after I got her.  ( In an article that I had written that was originally on TaxidermyReference.com titled "CHEMICALLY INDUCED PRONGHORN ANTELOPE HAIR SLIP", that is now here on hidetanning.net I had referred to the fastest natural chemically induced slip that I had personally witnessed being five hours, this is her!) 
I had checked her in shortly after taking her, and had her skinned out up to the neck at the five hour mark when I saw the slipping set in.  I finished skinning her, and applied STOP-ROT.  The slipping stopped immediately.  I gave the STOP-ROT some time to work, and then put the cape in the freezer. 

I had taken a young buck earlier on during our archery season that was the first specimen that the final STOP-ROT formulation, as it is now, was used on.  I skinned him out up to the head, cut the head off and left that in the pick up cab for an over night.  I skinned the head out the next day, treated the cape with STOP-ROT, let it lay around for a couple of more days, then put it under salt for about 24 hours.  It was still pretty warm at that time. I ran it through the WHITETAIL DESIGNER SYSTEMS and put it in the freezer.

I might point out that STOP-ROT was not released on the marketplace until 2002.

Very few days after the first doe, I took another doe during our gun season.  I knew right away that I would keep this cape also and do a side by side test of STOP-ROT for long term freezing affects.

This gave me three test capes to fool with that I KNEW FULL DETAILS about.

Initially I checked on the doe capes real frequently.  At the end of the first month, differences were becoming apparent.  At the end of six months, differences were dramatic.  I had rolled both capes with part of the flesh side left exposed for a visual check.  After six months, the STOP-ROT treated cape looked as if it had just been put in the freezer.  The untreated cape had taken on the "typical" look, plus had lost a lot of moisture.

The photos you will be seeing are of a cape that had been frozen for right at three years and seven months.

The reason you are seeing these photos.........

It seems the upright freezer at the end of my workbench had been left ajar on Friday the 10 th., that was the last time the freezer had been accessed.  Normally, I spend a good part of my day at that work bench or in the immediate proximity, and it would have been noticed immediately.  But......I had some other work I had to get done else where, and I wasn't around the freezer, or work bench until the morning of the 14 th.

That Tuesday morning I was hit with that "dead 'possum in the wall smell".  I'm doing that "What thee heck?" kind of thinking and following my nose.  Took me to the freezer.  The door was open about maybe a half inch.  All the contents were thawed.  Panic time.

My upright freezer door was full of skinned out heads and bones that I keep for reference, those along with another head and neck section on the bottom shelf were where the dead 'possum smell was coming from.  I imagine all the drippin's that were now directly below the door and under the freezer added to it.

I had been figuring for a long time that sooner or later someone would be reporting that they had had a freezer go out and only the stuff that had been treated with STOP-ROT was salvageable.  I never once entertained the notion that it would be me making the report.

I did save the 2001 green control cape though.  It was STOP-ROT treated immediately, frozen, then taken back out and pickled, neutralized, treated with Fat-B-Gone, and put back in the freezer.

I had just finished putting another thin coat of STOP-ROT on the photographed cape with the intentions of putting it back in the freezer, and then it dawned on me that I should probably make this text and photos publically available.  I have came to take STOP-ROT and it's performance for granted.  Not everyone knows about STOP-ROT.  As you can see by the photos, it would be darn hard to establish a time of death off a visual.

Before making the text available that you saw at the top of this page, I made a post on taxidermy.net/forums asking the experienced and professional community to establish a date of death.  The results can be found here:


STOP-ROT is available from these taxidermy supply distributors and tanneries: Order on-line from high lighted suppliers!

Wildlife Artist Supply Company  1-800-334-8012

Quality Taxidermy Supply 1-888-527-8722

Taxidermy Arts Supply  TASCO
Lonestar Wool & Fur  1-919-989-2000

SIVKO FUR, INC.   1-607-698-4827

James Taxidermy Supply (formerly Kings)

1-662-286-5133

WHITETAIL DESIGNER SYSTEMS 1-866-849-9198

                                     WHITETAIL DESIGNER SYSTEMS, INC.

Has made another expansion! Web site services for taxidermists are now available!