Ear Cartilage Removal Made Easier

by Battle Creek, Michigan taxidermist Mark Haineault


This article originally appeared on the Taxidermy Reference website, www.TaxidermyReference.com, which was the website for TRSupply, the taxidermy supply company originally started by Mark and Linda Haineault.

Warren Stutesman has since purchased the company, and moved it to Mio, Michigan.  The company now goes by Stutesman Taxidermy Supply, 3094 Mapes Rd., Mio, Michigan 48647  phone 1-866-788-3336.

Because of the GREAT results I had experienced with Whitetail Designer Systems' STOP-ROT product, I decided to pursue carrying the entire line of Glen Conley's products at T R Supply. The next product I had the opportunity to put to the test was the Hard Tissue Tonic.

WHITETAIL EAR CARTILAGE REMOVAL

For this test I chose a whitetail that had been brought to us after being in a freezer for over two years (our customer said he had changed jobs and couldn't afford to mount it when he shot it). The big buck was 5-6 years old when shot, that fact added to the fact that the ears were totally freezer burned and took us about an hour just to open, I thought this would make a great test. The cape had been tanned at a commercial tannery, so we chose NOT to remove the cartilage from the ears until after it had gone through their tumblers.

I laid the cape out and poured a small amount of Whitetail Designer Systems Hard Tissue Tonic into a cup.  Using a 1 1/2" brush, I applied it to the cartilage and allowed it to penetrate for approximately 25 minutes.

The cartilage becomes soft and flexible and can easily be bent in half. Using a scalpel blade I cut a line across the cartilage being carefull not to cut through the inner ear skin.

I then begin peeling the cartilage towards the tip of the ear and then towards the base.  The cartilage peels away quickly and easily.

I should also mention when removing the cartilage I found a small area of the ear that had not been turned to the edge. Because the ear was so soft and pliable, it was easily turned the rest of the way even after it had been tanned.  If you remove ear cartilage in your deer, I hope you have the opportunity to give Whitetail Designer Systems
HARD TISSUE TONIC
a try.  I'm sure you will be pleased at how much faster and easier it will make this step.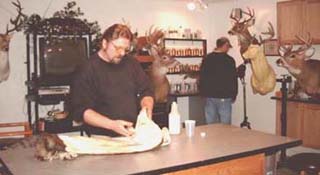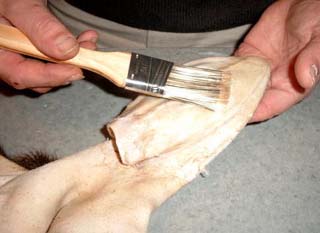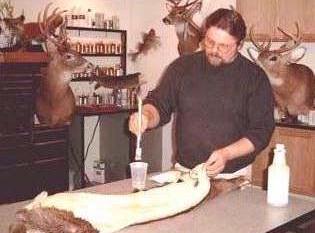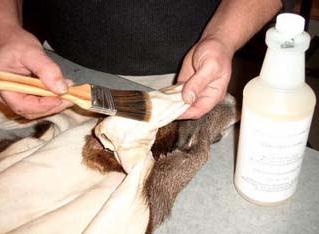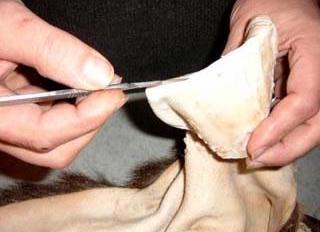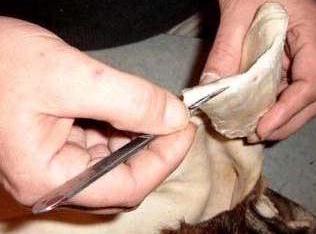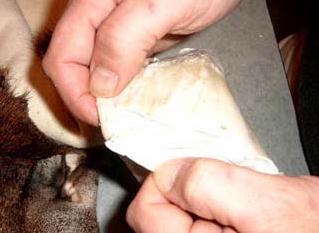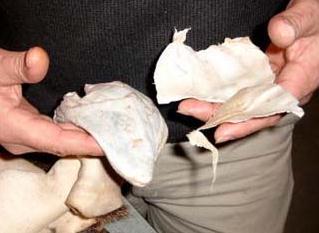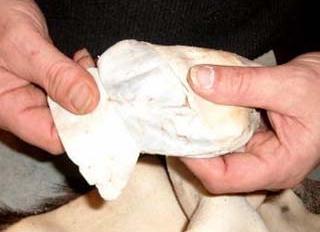 WHITETAIL DESIGNER SYSTEMS, INC.

Has made another expansion! Web site services for taxidermists are now available!