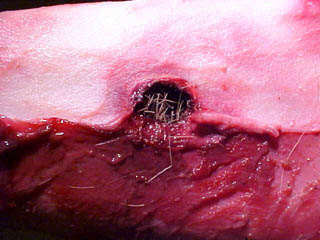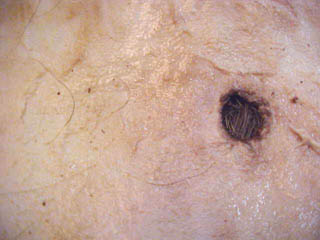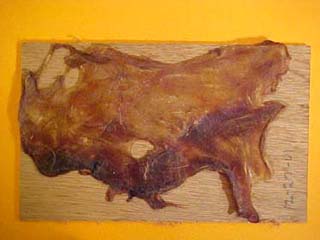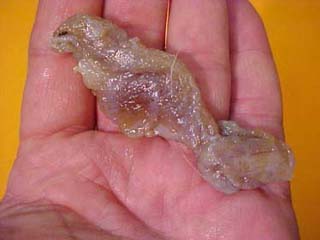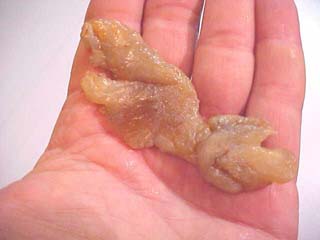 "This photo is a piece of muscle meat that I had fleshed off the cape once it had been treated with STOP-ROT. I just laid it on the piece of panel and dated it. That was done on 12/27/01, this photo was taken on 11/24/02."

"That thin piece of meat got me to wondering as to how thick a piece of muscle would the STOP-ROT work on.

Hilton Eppley sent me a raw cape in July, '02 to be tanned for a mounting seminar at the Maryland state taxidermists' show the first week end of August. I don't even want to tell you what all we put that cape through, it might make it sound like STOP-ROT is an invincible product, and there ain't nothin' invincible. I will tell you this, we pushed the envelope to the max with that one, and it did mount up.
Well, any way, I had cut the muscle off one of the upper eye brows. After I was done, I had about a 1/4 " of STOP-ROT left in the bottom of the Solo cup, so I just dropped the muscle into the cup and set it behind some boxes on the work bench, so I wouldn't fool around and knock it over.

You've probably already guessed the rest of the story. A few weeks later, I cleared off the work bench and wondered, "What the heck is this?". I knew what it was, but I couldn't believe what I was seeing.

I didn't think that was a fair test, since most of it had been in a fluid solution for the time period. So I took it out, and put it in a clean Solo cup, exposed to the air. Here's what that muscle looked like on November 24 th. As you can see, it did not dry, but it did not ROT either."

STOP-ROT treated 7/02.  Photographed 11/24/02.

Original photo was on www.taxidermyreference.com

STOP-ROT treated 12/27/01.  Photographed 11/24/02

Original photo was on www.taxidermyreference.com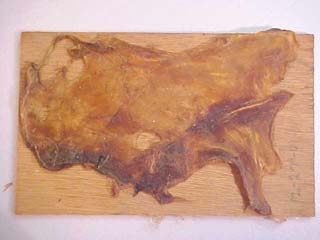 STOP-ROT and LONG TERM PERFORMANCE

                         Glen Conley

"I chose this particular cape for the article for a reason, it was a mess. If I had used a blemish free, tight-haired cape and used the STOP-ROT as a preventive, it just wouldn't have the same effect as what you'll get to see in the photos where STOP-ROT is used around a slug hole.

Now follow these time frames. The cape was from a 210 pound field dressed whitetail deer buck, that was taken on a Monday and left hanging until the following Saturday. At that time the deer was skinned and the head was severed from the body. The head with skin attached was brought to me the next afternoon. I promptly skinned the head out and froze the cape. The cape was loosing quantities of hair at that time, but as of yet did not have any bare slip spots. I kept the cape in the freezer for a year.

After a year, I pulled the cape out of the freezer. The hair was flying off the cape as it thawed, so I started brushing the STOP-ROT on as an area thawed. The hair slipping stopped almost immediately.

If you are doing In-House Tanning all year round, this stuff could well save you a lot of grief, not to mention capes and skins!"

My original intent with STOP-ROT was to produce a product that would simply allow a taxidermist more work time on a skin or cape.  It kinda looks like when I finally did hit the home run, it went out of the ball park!

We put STOP-ROT on the market calling it a short term preservative to extend a taxidermist's work time.  I guess it all depends on who you ask as to what a short term is.

The bonus applications have also been some real eye openers.  And WE AIN'T DONE YET!

The documentation in this article actually starts back in time before STOP-ROT was released to the market. 
Research Mannikins
was the first taxidermy supply company to catalog the product, which was fall 2002.
Shortly after that, Mark Haineault of TRSupply, who was also the webmaster for Taxidermy Reference.com, also picked it up, and had graciously hosted various STOP-ROT taxidermy how to articles that I put together on his website.

The text below that is italicized, and in quotation marks, is from the original articles about STOP-ROT on Taxidermy Reference.  The photos from the original articles are also identified.

I set things up in this fashion in order to give you a convenient side by side comparison.

If you were at the 2003 World Taxidermy Championships, you may have seen these same STOP-ROT treated muscle (meat) pieces in the TRSupply booth.

STOP-ROT does a really neat job of floating blood up out of the skin. 

It is the same entrance wound, cleaned up with nothing but the STOP-ROT.  You just keep wetting the wound down with STOP-ROT, and wipe it off with paper towels as the blood floats up.  This is the same cape described above.

The dates over the photos pretty much says it all.

Here again, the dates over the photos sums it all up.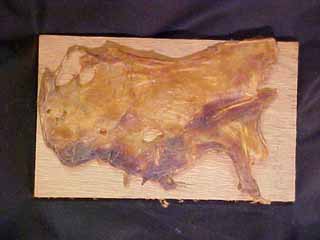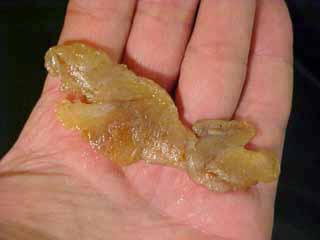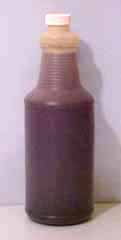 You did notice that we are now looking at four years later!?!  I don't know about you, but that's enough to impress me.  Something that really has me amazed is the fact that it is still around for the photograph.  What I mean by that is this, there has been a number of pieces of bone and skull caps in the same room, and even on the same work bench that had remnants of dried red meat on them.  In this neck of the woods, insects jump on those meat pieces quick and turn them to dust!  My "theory" on that is that I can not, and could never detect an odor coming off that piece of meat once it was dried.  I'm assuming that the insects home in on the meat pieces by using a sense of smell.  Either the odor has been "changed" where an association of the meat being a food isn't made, or the piece actually is odorless.

I've added a couple more photos at the end of this article that are of the same meat piece, but a "different" view.

Photographed 12/16/05

This bottle o' blood was from a bloody, dirty cape that was treated using the pre-soak treatment described in the article at:

This is the same bottle I had at the 2001 World Show.  Mark Haineault had it with him at the TRSupply booth at the World in 2003.

It is still in a pretty darn good state of preservation.

STOP-ROT is available from these taxidermy supply distributors and tanneries: Order on-line from high lighted suppliers!

Wildlife Artist Supply Company  1-800-334-8012

Quality Taxidermy Supply 1-888-527-8722

Taxidermy Arts Supply  TASCO
Lonestar Wool & Fur  1-919-989-2000

SIVKO FUR, INC.   1-607-698-4827

James Taxidermy Supply (formerly Kings)

1-662-286-5133

WHITETAIL DESIGNER SYSTEMS 1-866-849-9198