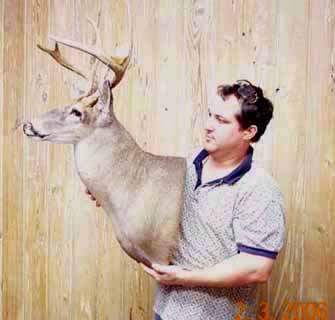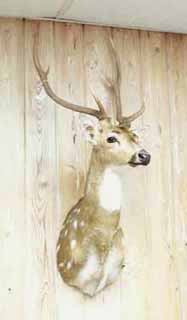 Hurricane Katrina vs. STOP-ROT

Hurricane Katrina proves to be no match for the tag team of

Louisiana taxidermist Paul Eymard and STOP-ROT!

Louisiana taxidermist Paul Eymard, pictured above with one of his whitetail mounts, by fate and not by choice, put STOP-ROT to it's biggest test to date. He shares the fascinating account of his experience.

              Axis deer

Hurricane Katrina survivor.

  Mounted by Paul Eymard.

Heat and humidity causes one to take extra precautions when tanning for taxidermy.

That's what drew me to stop-rot in the first place.

I was looking for a product that could prevent the hair from slipping as well as protecting the integrity of the eyes, ears, nose and mouth.

I got all I wanted in the stop-rot procedure.  Protection from slippage, and epidermal integrity as well.  So I decided I had nothing to lose with diving in and tanning the two capes I desperately wanted to save.

They were for an ambulance driver that went through hell as told by him following the aftermath of Katrina.  I made up my mind to give it a go and proceeded to thaw the remnants of what was in the freezer.

The smell was there, already putrid isn't enough to describe what I was enduring.  There was the axis cape for the ambulance driver and a whitetail for him also.  He had also given me two capes to make rugs out of.

Now I had applied the stop-rot as the directions said when I first took the axis and whitetail in.  I had not done it with the two extra capes he wanted for rugs.  These were not saved as expected.

Well as time went and the defrosting proceeded it was apparent the rugs were not in any way usable but I wasn't getting any rotten smell from the axis and whitetail.  I proceeded with the fleshing and tanning.

No noticeable slip was happening and there was no rotten smell either.

Now a strange thing starts happening to your mind where you just can't believe what your smelling and seeing and well, feeling.

The skin had a chemical smell but nothing bad and it felt like a tanned skin even before it was tanned.  I asked myself was I seeing what I was seeing.

Well I mounted the axis up and guess what?  No slip and good epidermis intact.

The picture shows the axis and it has been received by a very happy ambulance driver named Aaron .

The whitetail will be mounted up at a later date but I expect good results also.

I now use stop-rot up front on everything that comes in.  It gives reassurance of the unknown.

I feel like I read recently on the taxi net a statement George Roof made to the point Glen Conley is coming up with stuff that is changing the tanning industry and pushing the envelope, thanks, Glen.

Paul Eymard

Ark Wildlife Studio

Harvey, Louisiana

After evacuating for hurricane Katrina for almost a month I was hesitant to get into the capes I had left in my chest freezer

Best estimate from communicating with a neighbor is we were without power about 11 days or so.

I mean I've done enough mammal capes over the years and was sure that they were ruined.

Something was in the back of my mind though; I had been using stop-rot and had noticed more than a few things were changing my reality of what I had been seeing over the years

First and foremost doing taxidermy down in the Deep South is asking for a challenge to begin with.




Addition 6-4-06

The proof is in the pudding.

3 year old skin that went through almost two weeks without power in the freezer and because it was stop-rot treated is mounted up and ready for the customer.

No ultra ordinary steps were taken.

All i did was follow the directions.

It mounted up fine.

Felt like a normal cape except it dried hard in about two days,

that's fast for down here.

Epidermis intact and almost no color loss.

i could not ask for anymore.

Unless a person can read the future, I'd suggest using stop-rot up front,

it takes care of the unknown, and cuts down on the amount of tums i use.

thanks again

paul e

Record book bucks get named.  This buck is some kind of record, and some kind of tanning and taxidermy history.  Below are two photos of Paul's Katrina Buck.

Thanks, Paul, for taking the time to share your experience with us.  It is appreciated.

Glen Conley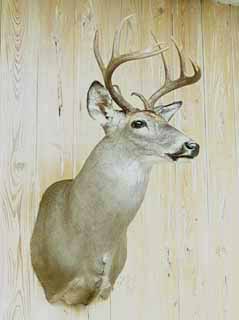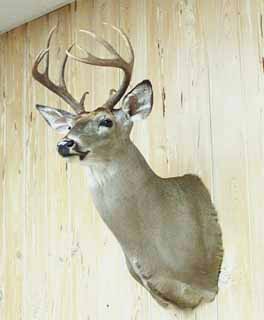 6 3/4" nose to eye x 16" neck circumference, right behind the ears, semi-sneak straight form pictured.

REAL DEER FORMS are available through Quality Taxidermy Supply. Current availability and price list of REAL DEER FORMS.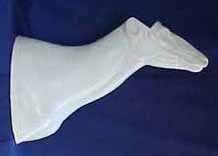 RESEARCH MANNIKINS offers on-line purchasing of all WHITETAIL DESIGNER SYSTEMS PRODUCTS for your convenience.
The entire line of WHITETAIL DESIGNER SYSTEMS products can be purchased direct by calling our sales rep, Franz Heepe. Tanning supplies, taxidermy reference photos, STOP-ROT.

                                                    Phone TOLL FREE 1-877-861-5679.

If you would like to team up with us by submitting your existing site, or you want a website designed and maintained for you...CLICK HERE... for details.
Index of STOP-ROT articles describing various uses in tanning and taxidermy.
STOP-ROT is available from these taxidermy supply distributors and tanneries: Order on-line from high lighted suppliers!

Wildlife Artist Supply Company  1-800-334-8012

Quality Taxidermy Supply 1-888-527-8722

Taxidermy Arts Supply  TASCO
Lonestar Wool & Fur  1-919-989-2000

SIVKO FUR, INC.   1-607-698-4827

James Taxidermy Supply (formerly Kings)

1-662-286-5133

WHITETAIL DESIGNER SYSTEMS 1-866-849-9198