To submit a critique and suggestions click on the e-mail thingy below the photos.

This website is about taxidermy and people that make up the taxidermy industry.  Hobbyist, part timers, full timers, manufacturers, suppliers, we're all represented here, and we all have NAMES.  Be sure to sign YOUR name to your critique!

This is Paul's first bird mount.



Please enter Paul Thompson mount

in the subject line of your critique.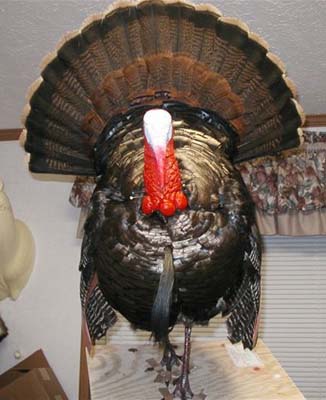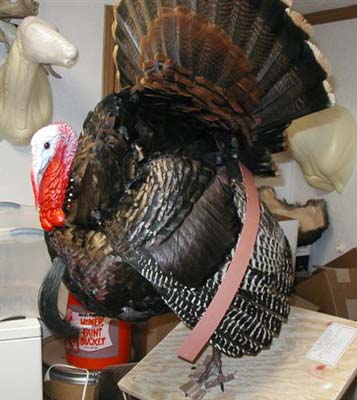 Feather placement!! Looks like he needs to shuffle a few feathers.. I also prefer a freeze dried head.. They look alot more life like.. A bird in full strut should be blown up to the max and should be squated down to where the wings are dragging the ground.. All things considered for a first bird, and a turkey at that I think his customer will be happy..

Tim Wurl

***************************************************************************************************

Far be it from me to say anything negative about this turkey – especially if it's a first.  The fan gets a perfect ten, in my opinion.  The feet appear to be positioned well, also.  I can't see the scapulars due to the photos, but the front of that group should be pinned even with the big red wattles and a few inches back from them.  There should be a crease between the breast feathers and back feathers running from the wattles straight back to the aforementioned scapulars.  I agree with Tim's post about the grooming on the breast and the feathers right behind the bird's head (those should be standing straight up creating a wall).  I don't agree with Tim on the turkey needing to be squatted.  I've seen a lot of turkeys posed that way by taxidermists in order to get the wings lower, as well as the last few rows of breast feathers.  Those mounts just don't look natural to me.  Looking at reference photos, the change should be made in the wing itself, and the breast feathers (they should be almost 45 degrees to the body down there).  All in all, however, this mount is far superior to most turkeys I see mounted.

Robbie Reynolds

Long Spur Taxidermy

P.O. Box 188

Livingston, AL 35470

Phone: 205.652.4392

Cell: 205.499.1570