Daniel Dutton

I'm 23 and here is my first mount ever. It's a hen northern shoveler.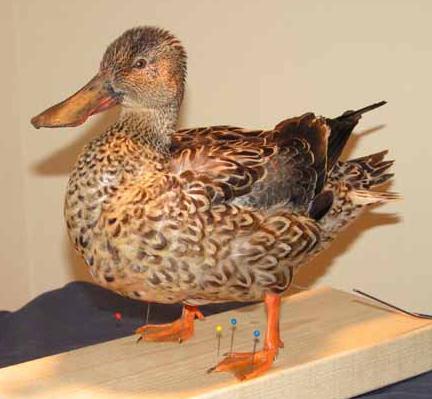 To submit a critique and suggestions click on the e-mail thingy below the photo.

This website is about taxidermy and people that make up the taxidermy industry.  Hobbyist, part timers, full timers, manufacturers, suppliers, we're all represented here, and we all have NAMES.  Be sure to sign YOUR name to your critique!



Please put Daniel's duck in the subject line of your critique.

First off....nice first mount! I have seen people that have been doing taxidermy for 15 years not do as nice a job. That being said....here are the issues that I see need addressed:

The main problem is the skin placement. It appears to me that the skin is "twisted". You need to look at reference and understand where every feather group begins and ends and make sure they are placed there.

Your wing looks like it is over tucked. I would say this results from not raising the humorous when positioning the wing and the primaries are too high.

The tail looks fairly sloppy and probaby needs the quills cleaned off better so that is will spread evenly. Make sure you take the tail bone out. That will help you out.

The back skin also appears to be pinched in the back part of the neck.thus resulting in making the bird look flat backed (the humorous being too low contributes to this also).

Your eye set looks pretty good along with your head shape. Two of the hardest things to get right! Congrats on that.

Overall, very nice for a first duck. With a little time and a little tweaking you will be cranking out blue ribbons time after time. Keep at it.

Dane Bisel

Beaks N Bills Taxidermy Studio

13973 SR 278

Logan, Oh 43138

740-590-4702