TAXIDERMY SCHOOLS, CLASSES, AND WORKSHOPS

Ken Darville offers private one on one or small group training opportunities in all areas of taxidermy to include Gameheads, Fish, Waterfowl, Upland Birds, Large and Small Lifesize, Exotics, Reptiles, Molding and Casting, Form alterations, and Business Development.  His programs are tailored for your needs and flexible to your schedule.  Weekend Training available.  Reasonable rates. Flexible payment schedules. Observe or Participate!
                                              PO Box 1084

                                    Fortson, Georgia 31808


                          TAXIDERMY TRAINING

John Griffith
, big game taxidermy specialist, is now offering taxidermy training on a one on one basis.
John is located in Stearns, Kentucky, and can be reached by phone at 1-606-376-4380.  To see what John does in the way of taxidermy, check out his website at: 
www.griffithtaxidermy.com

       Mounting of all North American and African animals, birds and fish.

We can design your curriculum for the full 9 week course or train you in any of the one or two week specialty classes such as birds, game heads, fish etc.                             www.mountainvalleyschooloftaxidermy.com
    Trails End School of Taxidermy

               Ph.  1-320-393-2825

                      P.O. Box 127

              310 West Main Street

             Rice, Minnesota 56060

Academy of Realistic Taxidermy

          Ph.  1-406-394-1514

           (fax) 406-394-5790

            23474 Road 250N

   Havre, Montana 59501-8050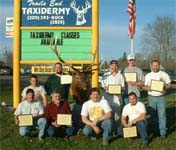 Mountain Valley School of Taxidermy

               Ph. 1-253-796-0878

               11826 S.E. 254th St.

           Kent, Washington 98030