Wild Turkey Taxidermy Tips

                         with

                TAXIDERMIST

                Dan Jennings

                         of

              Zanesville, Ohio

        Phone 1-740-849-2255

              Demonstrating

                 STOP-ROT


Until I started using STOP-ROT, I never realized how quickly wild turkies were decomposing on me before I could get them mounted.  STOP-ROT helps to produce a really clean bird with a lot of sheen, and since I've been using STOP-ROT on turkey legs and feet, I haven't had the first one with that funky turkey foot odor.

Cut the tail off, skin the wild turkey and cut the legs off.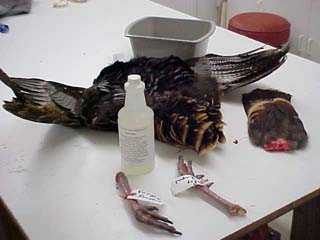 PRESERVING WILD TURKEY LEGS

Wild turkey feet and legs decompose quickly, so I put the STOP-ROT to them as soon as possible.  I just put them in a pan with a little STOP-ROT and then brush it on thoroughly over the feet and legs.  The feet and legs are left in the STOP-ROT for thirty minutes to an hour.

If the bird isn't going to be mounted right away, I inject the feet and legs with STOP-ROT before freezing.  This helps to keep them from freezer burning and makes it easier to inject filler later.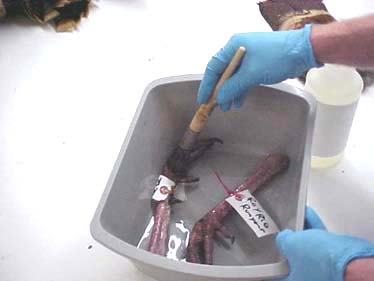 PRESERVED WILD TURKEY LEGS

I have used STOP-ROT in the following ways on wild turkey feet and legs, and couldn't really tell any big difference in performance on wild turkies that I have mounted right away. They have been:

1. soaked

2. brushed on

3. brushed on and injected

4. soaked and injected.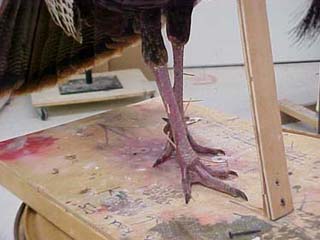 The two above photos show wild turkey legs and feet that have had nothing done to them other than a STOP-ROT treatment.  They look pretty darn good like that, but I go ahead and mist on just a little color.  A guy that can't paint very well might consider just using a clear spray for a sealer, even if they fade someover time, that will still look better than a bad paint job.

If the bird is fresh, you can flesh and wire wheel the skin before using the STOP-ROT, but you will probably be better off to go ahead and use it right up front.  When these guys bring you birds that have been in the back of a pick up just a little too long, and the skins are turning green, you better get the STOP-ROT on right away.

Just like you see in the picture sequence, there isn't anything to using STOP-ROT. You just brush it on the flesh side and let it work for at least fifteen to twenty minutes. You can see it start to work on a wild turkey skin just like you do on a mammal skin.

PRESERVED WILD TURKEY LEGS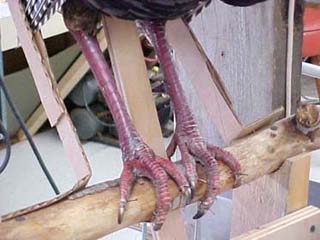 STOP-ROT APPLICATION ON WILD TURKEY SKIN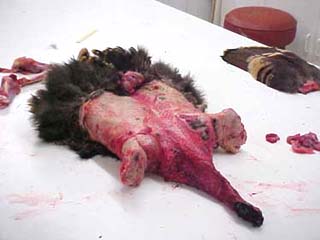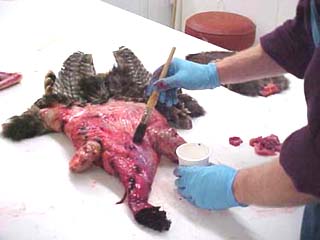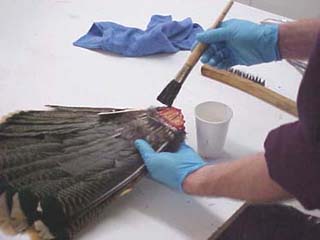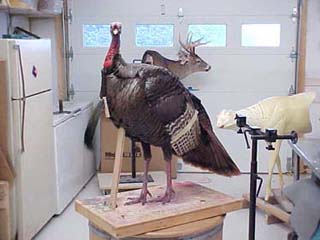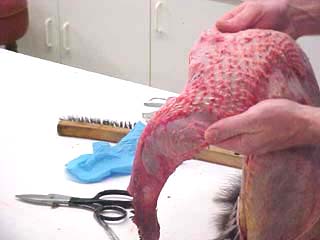 The wire wheeled turkey skin is shown here.  It is now ready to wash.

The skin/feathers are then washed in a warm bath of Dawn dish liquid and water.

Really dirty birds, like one that has been doing a lot of dusting, will get a second wash.

It is then rinsed, drained and spun out in a washing machine.  It then get ten to fifteen minutes in the tumbler with corn cob grit.  If any additional drying of the feathers is needed, that is done with a blow dryer on low heat.

It is then ready to mount. I have done birds both with and without dry preservative after the fact. I haven't been able to detect any difference by not using DP.

PRESERVING A WILD TURKEY TAIL

I treat the base of the tail with STOP-ROT and proceed as normal.  I had a guy bring me in a turkey tail that had been in a black plastic bag on the dash of the truck for three days.  He said, "Man, it stinks a little bit".  I froze it right away.  When I thawed it out, it was slippery, slimy and nasty.  You could have probably put it in a warhead and killed people with it.  I had to take it out side to wire brush it.

I put it down in a cup of STOP-ROT and let it set for a day.  It was still rank, so I stuck it back down in the STOP-ROT for another two days.  After that, I washed it out and used it on a full body mount and it came out fine.

Here's some photos at different angles of a couple of different wild turkey mounts done with STOP-ROT. It's pretty clearly visible as to how the plumage and legs come out.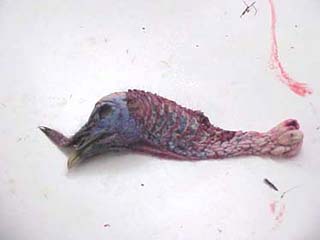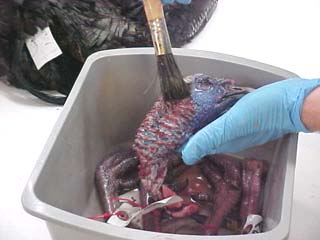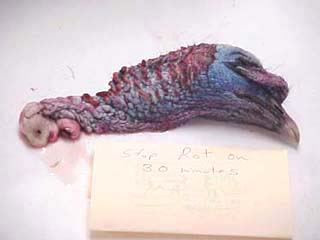 Here's some photos of something else I've been playing with in my shop.  You brush STOP-ROT on a wild turkey head and it looks alive!  I bet the freeze dry guys could really tear up with this stuff.  There's going to be people come up with ideas and uses for STOP-ROT that Glen hasn't even thought about.

STOP-ROT treated WILD TURKEY TAXIDERMY MOUNTS by Dan Jennings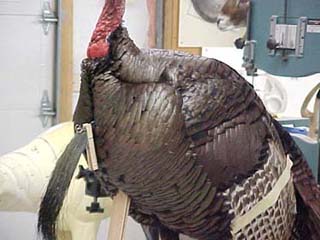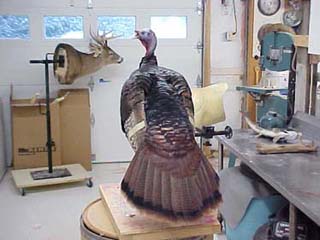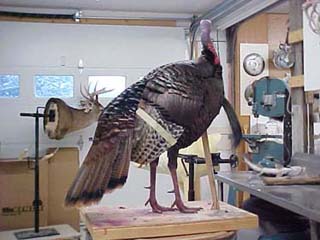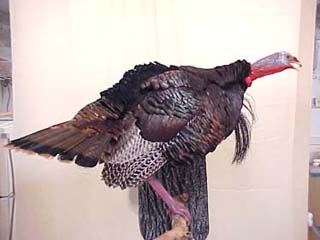 The Weathered Stump original sculpture is pictured above left, and foam reproduction above right.

See what is going on behind the scenes, check out more sculptures I have in the works for
taxidermy forms
!
                                                      Glen Conley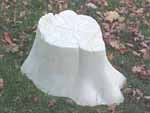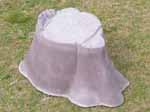 Wild Turkey Taxidermy Habitat Base

            The Weathered Stump

                Now in production!

            Only $39.95 unfinished.

  Order TOLL FREE 1-888-527-8722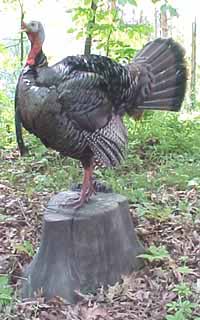 The wild turkey taxidermy mount on The Weathered Stump habitat base was done by Dan Jennings.  Dan has done an article for the REAL DEER FORMS web site to show how quickly (took him about twenty minutes to do this one) and easy it is to prepare the Weathered Stump for a mount.

STOP-ROT is available from these taxidermy supply distributors and tanneries: Order on-line from high lighted suppliers!

Wildlife Artist Supply Company  1-800-334-8012

Quality Taxidermy Supply 1-888-527-8722

Taxidermy Arts Supply  TASCO
Lonestar Wool & Fur  1-919-989-2000

SIVKO FUR, INC.   1-607-698-4827

James Taxidermy Supply (formerly Kings)

1-662-286-5133

WHITETAIL DESIGNER SYSTEMS 1-866-849-9198

                                  WHITETAIL DESIGNER SYSTEMS, INC.

Has made another expansion! Web site services for taxidermists are now available!