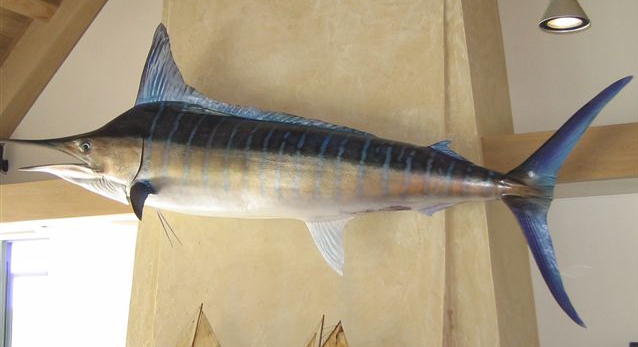 Hi my name is Kevin and I would like to submit a photo of a striped Marlin that I have mounted

I'm way down here in NewZealand .I have seen many marlin mounts on the net and wonder how mine stack up to other repo's

Cheers

Kevin

To submit a critique and suggestions click on the e-mail thingy below the photos.

This website is about taxidermy and people that make up the taxidermy industry.  Hobbyist, part timers, full timers, manufacturers, suppliers, we're all represented here, and we all have NAMES.  Be sure to sign YOUR name to your critique!

Please put Kevin's marlin in the subject line of your critique.



From what detail I can see it looks great! Is it a real skin mount or a replica? If it is real how did you get all the oil out of the head?

Shane Horton

Eagles Nest Motel/Chilkoot Lake Tours

***************************************************************************************************

The Striped Marlin mount looks great! The fins are at a natural position and the ever important eye looks good, although with this photo it's hard to see it close up. Marlin eyes ALWAYS have a membrane around them and are angled downward. You may have a few too many stripes, but they look very good. Nice airbrushing. I don't see any spots on the dorsal fin but some Striped Marlin have them while others don't. All in all, this Marlin looks very good. Keep up the nice work Kevin!

Jeff Soto Sr

Jeff's Fish Mounts

Riverside, California

Addition to Kevin's page:

Hi Kevin here thanks for putting my marlin on your site, sorry I for got to say that I'm in the older group but not a fossil yet,could you add this yellowfin tuna I would be interested in feedback

Many thanks Kevin Flutey Down Under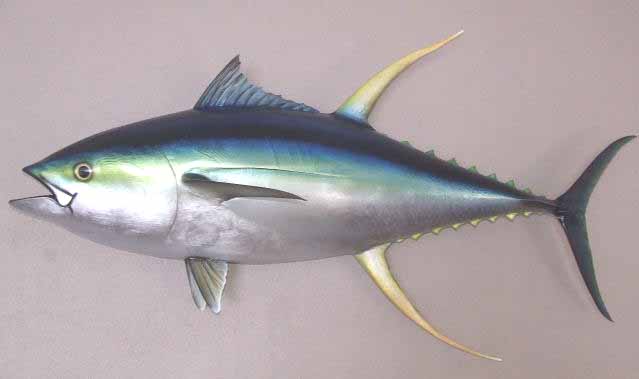 Please put Kevin's tuna in the subject line of your critique.

                                                         Yellowfin Magic!

Once again you blow me away with your quality of work! The Yellowfin is beautiful.

The color is subtle and very realistic and the fins, especially the pectoral fin has been placed in it's correct position, not turned flat against the body like so many taxidermists seem to do.

The eye is natural looking and looks to be flush against the head as they naturally are (what kind of eye is that? please email me and tell me!) in fish of the Tuna family.
The only thing that I can see that could have been done is to have a little more of a bright gold bar along the mid-line of the body and maybe some yellow in the caudal fin. But in different parts of the world, Yellowfins will vary in color.

Keep up the nice work buddy.

Jeff Soto Sr

California, USA