AEWS Taxidermy Supplies

a division of Eddy Enterprises has added WHITETAIL DESIGNER SYSTEMS

STOP-ROT to their inventory.  In the taxidermy industry, AEWS is often referred

to as Anthony Eddy's, known for their freeze dried turkey heads, and turkey bases.

Anthony Eddy's Wildlife Studio can be found at 315 North Main, Slater, MO 65349.

AEWS also has a freeze dry pet preservation service.  Anthony Eddy and his freeze dry artisans do some absolutely awesome work in this area.  Check out the photos on their other website: 
www.pet-animalpreservation.com/index.html
WHOLESALE TAXIDERMY SERVICES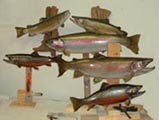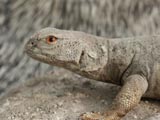 Fish taxidermy wholesale services for taxidermists.

Dave Toms,
e-mail
, 940 733-4236 (Cell),
940 569-1322 (Home/Biz)

1231 Danberry St. Burkburnett, Texas 76354

Reptile taxidermy, small mammal taxidermy wholesale services for taxidermists.

Evelyn Mills,
e-mail
, 1-254-793-2120
Georgetown, Texas 78628-6614


                               RESEARCH MANNIKINS, INC.

Research Mannikins computer guru, Ronica Castro, has revamped the
Research Mannikins website
.  She has added the entire catalog to their on-line store, and done so with people in mind.  Navigation is simple, and easy, and items are easy to find.
Many of you that have been attending taxidermy shows in the mid-western and eastern states have probably already met Tim Jordan and his wife Connie.   They have been operating as Jordan's Bear Den out of Northpoint, Pa. The focus had been on professional rug felting and rug shell heads. They are now starting to branch out.  

Tim's personal collection of Eastern Wild Turkey reference photos have just been added to the WHITETAIL DESIGNER SYSTEMS line of reference photos on floppy disk. These include a head studies, general reference assortment and feather pattern arrangement selection.  

The turkey series is available from RESEARCH MANNIKINS, WASCO, Quality Taxidermy Supply, and WHITETAIL DESIGNER SYSTEMS. They are not in the current catalog of any of the above companies, so just ask for them by name.  

How many of you knew that Tim also has a talent for sculpting? All that knew, raise your hands. I don't see any hands..........................it must be my monitor............   Wehllllll! Check this out! This photo is of the first of Tim's turkey body forms now under production by and available from Hilton Eppley Forms.

Impressed? I am. I'll tell you something else I was impressed with. At the recent West Virginia state show, Tim took Best of Category in Master's Division with a mount done on this form.  Here's a photo of that mount.

Tim's line of turkey body sculptures will be growing. They will be offered as soon as the molds can be made for them.   Tim is also in process of gearing up for wholesale turkey work.  To contact the Jordans for any of their services, phone

1-814-938-4081.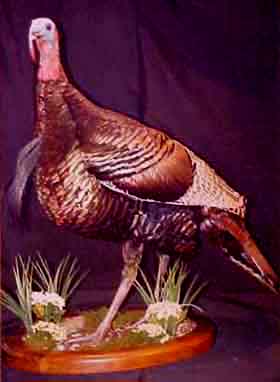 NEW BREAKTHROUGH PRODUCT!

Steve Steinbring, of Newton Supply Company, is developing a stable full of winners with his
Epo-Grip
line of taxidermy products. 
His integration of modern technology into taxidermy applications has given birth to his latest brain child, Ear Magic.

Ear Magic is a time saving, reinforced translucent ear adhesive, designed to produce strong, flexible earliner quality ears for the taxidermist, without the mess of Bondo and extra work of earliners.

Ear Magic is a ready to use product that can be easily tinted with flocking, tempera, or chalk, providing application alternatives not previously found in other methods of ear treatment.  It can be used with either tanned, or dry preserved hides.

Ear Magic uses:

Direct application to ear cartilage, using the Bondo method technique/principle of application for ears, produces exceptionally thin, strong, translucent ears.  Steve says that the people that have been using the Bondo method should find using this product as easy as falling off a log.

Ear Magic can be used with the addition of fiberglass cloth, or chop, for reinforcement for large ear applications such as elk, eland, and moose.

Steve says with small mammals, if you can open the ear and get Ear Magic in there, it will work.  You can also manufacture your own custom earliners with Ear Magic.

Ear Magic can also be used as an adhesive for commercial earliners.

Product yields approximately 20 sets of medium ears, or whitetail size ears, per 32oz. unit.  It only takes 3/4 of an ounce, by volume, per whitetail ear.

The price per quart unit is $40, which breaks down to just $2 for a pair of whitetail ears! 

Any questions about Ear Magic, feel free to
e-mail Steve
, or call him at 1-800-888-2467.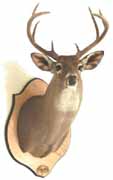 TROPHY PANELS now at

Taxidermy trophy wood panels beautifully handcrafted and adorned with a freehand wood burned design by Raul Pena of Houston, Texas. Your trophy is a one-of-a-kind, why mount it on a standard wood panel when you can get a one-of-a-kind panel as well ?

                 WILDLIFE ARTIST SUPPLY COMPANY

a Monroe, Georgia based taxidermy supply company has now added WHITETAIL DESIGNER SYSTEMS STOP-ROT to their inventory.