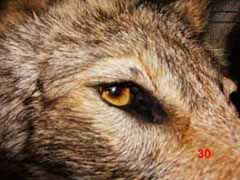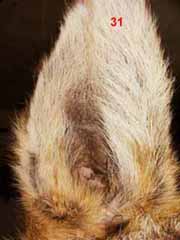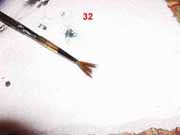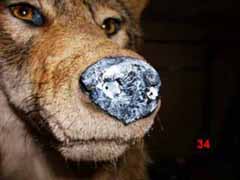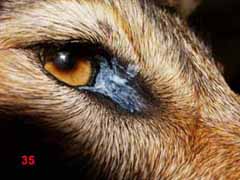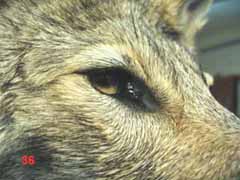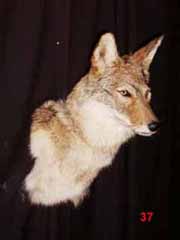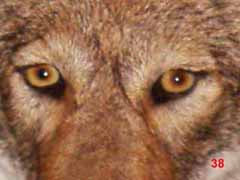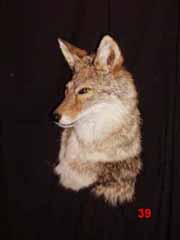 Any questions give me a call 217 273 -8658 – now go get started – anyone

wanting capes let me know I have a ton – cost is $42 and includes shipping

Terry Davis


Figure 31) we will now turn to the inside of the ears – you should know that in nature the inside of coyote ears run from black to pinkish purple and all stops in between – I use Payne's gray to paint my ears

Figure 30)  clean brush and paint on acetone on eye proper – this will break down the paint in an instant (all paints I use are lacquer based) – now use something like 'brite eyes' and clean off the eye – using a q tip  wet one end and swab the eye – give it a couple of seconds and use the dry end of q tip to buff – wow!

Figure 32)  I use a brush to put color back in – I dip brush in color and then paint most of paint off on a paper towel – I then purposely splay the fibers and paint the inside of the ear with a twisting fashion – this puts on the color very thinly and partially translucent

Figure 33) here are the ears finished

Figure 34)  we need to shine up the nose – I use modgepodge painted on thinly – picture looks like this is a thick coat but it is very light – you can also hit the nose with some triple thick lacquer instead – the lacquer is a little to shiny for me

Figure 35) also put some on the inside of the eye and along the lower eyelid

Figures 37,38 and 39)  finished mount – this is the original coyote we started with

                      This website,

         Hide Tanning and Taxidermy

                    is sponsored by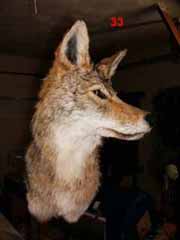 COYOTE SHOULDER MOUNT TAXIDERMY TUTORIAL

                                 by Terry Davis

                              Effingham, Illinois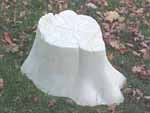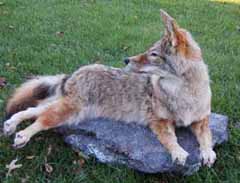 Coyote mount on rock slab by Terry Davis.

To learn how Terry makes taxidermy habitat

rock ledges and shelves see:

In Memory of

"Mr. Coyote"

Terry Davis

                                     WHITETAIL DESIGNER SYSTEMS, INC.

Has made another expansion! Web site services for taxidermists are now available!